Thank you for all of the kind feedback last week! If you have any suggestions or additions to the report please email: [email protected]
Disclaimer: All information is made without any warranty or representation. Consult with the appropriate legal, financial and tax experts prior to making any investment decision. The information is provided for educational purposes and the author assumes no liability whatsoever.
The Stock Market
US Equities – The Dow Jones staged a modest climb of 2.21% for the week closing on Friday at 24,242.49. The index of America's 30 largest companies remains down 15.05% year to date.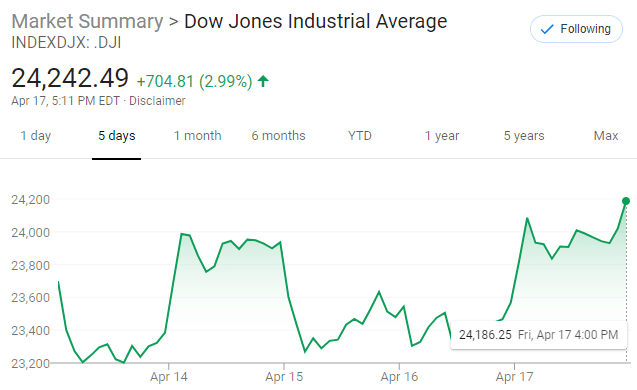 Horrible Earnings Reports – In their first-quarter earnings report released last week, profits at JPMorgan Chase plunged 69%. In his annual shareholder's letter, CEO Jamie Dimon said the bank may consider suspending dividends if economic conditions continue to worsen.
Oil On the Verge of Collapse – US oil prices dropped again last week, closing at an 18-year low of $18.27 a barrel. Since hitting $63.27 a barrel in early January, US crude has lost 71% of its value.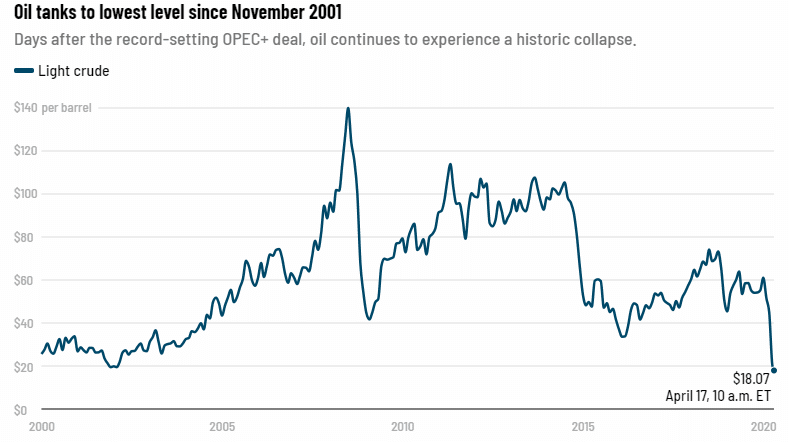 Rent Deferrals
25% Rent Reduction Bill – Assemblyman Phil Ting of San Francisco has released a proposal for a bill that would require landlords to decease rent amounts by 25% for the next 12 months. The California Apartment Association has come out in firm opposition of the bill saying, "AB 828 ignores the robust rent and eviction controls already in place statewide. It provides no assurances that landlords can collect rent, remove problem tenants, or get a fair hearing in the court system."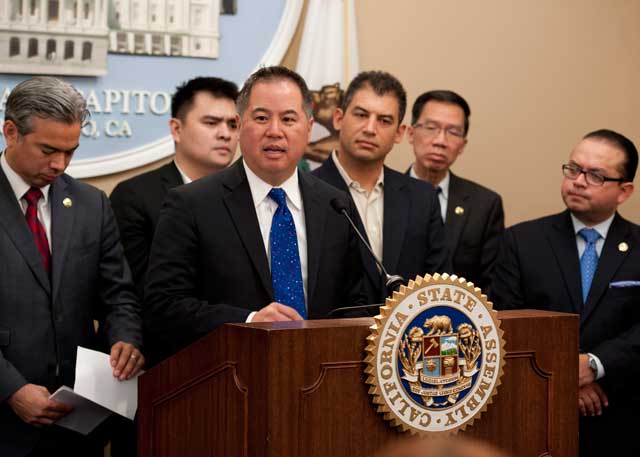 Testing Forced Majeure – As the lockdown continues many tenants are turning to a rarely utilized lease clause called "Force Majeure" or the Act of God clause to get relief from paying their monthly rent obligations. With courts currently closed and already facing a pre-coronavirus backlog of 2-3 months, commercial landlords have to weigh the costs in fighting these kinds of battles. "It'd be cheaper to work with a tenant than to get into a lawsuit." says, David Wright, an attorney with Lawyers Realty Co in St. Louis, Missouri.
Retail Black List – While many mom-and-pop businesses struggle to pay rent, some major retailers have refused to pay rent during the lockdown despite having the financial wherewithal to do so. Major retail holding companies such as Kimco have begun circulating a "Black List" of bad actors including Burlington Coat Factory, Petco, Victoria Secret, and Staples.
Unemployment and the Stimulus Plan
Unemployment Report – 22 million Americans have filed for unemployment aid since President Trump declared a national emergency on March 13th, 2020. This is the highest number of unemployment claims and the 2nd high overall unemployment rate. The highest percentage of unemployed was in 1933 at 24.9%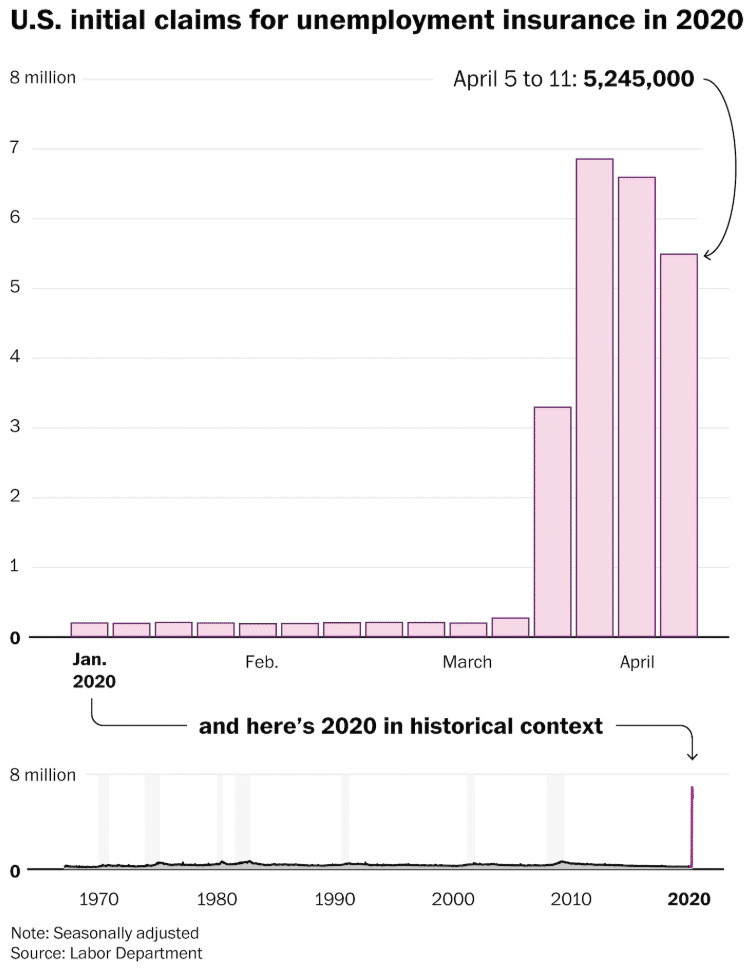 Stimulus Out of Money – The Small Business Administration announced on Thursday that the Paycheck Protection Progam, a portion of the CARES Act that provides loans for small businesses has run out of money. The program was allocated $349 billion which was dispensed into 1.6 million loans. Treasury Secretary Steven Mnuchin asked Congress for an additional $250 billion in emergency funds to bolster the program.
Optimistic Outlook – The Wall Street investment bank, Goldman Sachs released its first-quarter earnings report which predicts the US economy will rebound in the 2nd half of 2020 as the country lifts lockdown orders and businesses re-open.
Commercial Real Estate
Delay in Appraisals – The Federal Reserve announced on Tuesday that banks can postpone appraisals on a residential or commercial property for 120 days after the loan closes.
New Construction Slowed Down – The U.S. Census Bureau reported that the pace of new construction projects has dropped sharply as a result of coronavirus lockdown. Housing starts dropped 22.3% and applications for new permits fell 6.8%.
Bankruptcy Filings – Neiman Marcus, JC Penny, AMC Theaters and True Religion Jeans are reported in discussions to file for bankruptcy protection as soon as this week.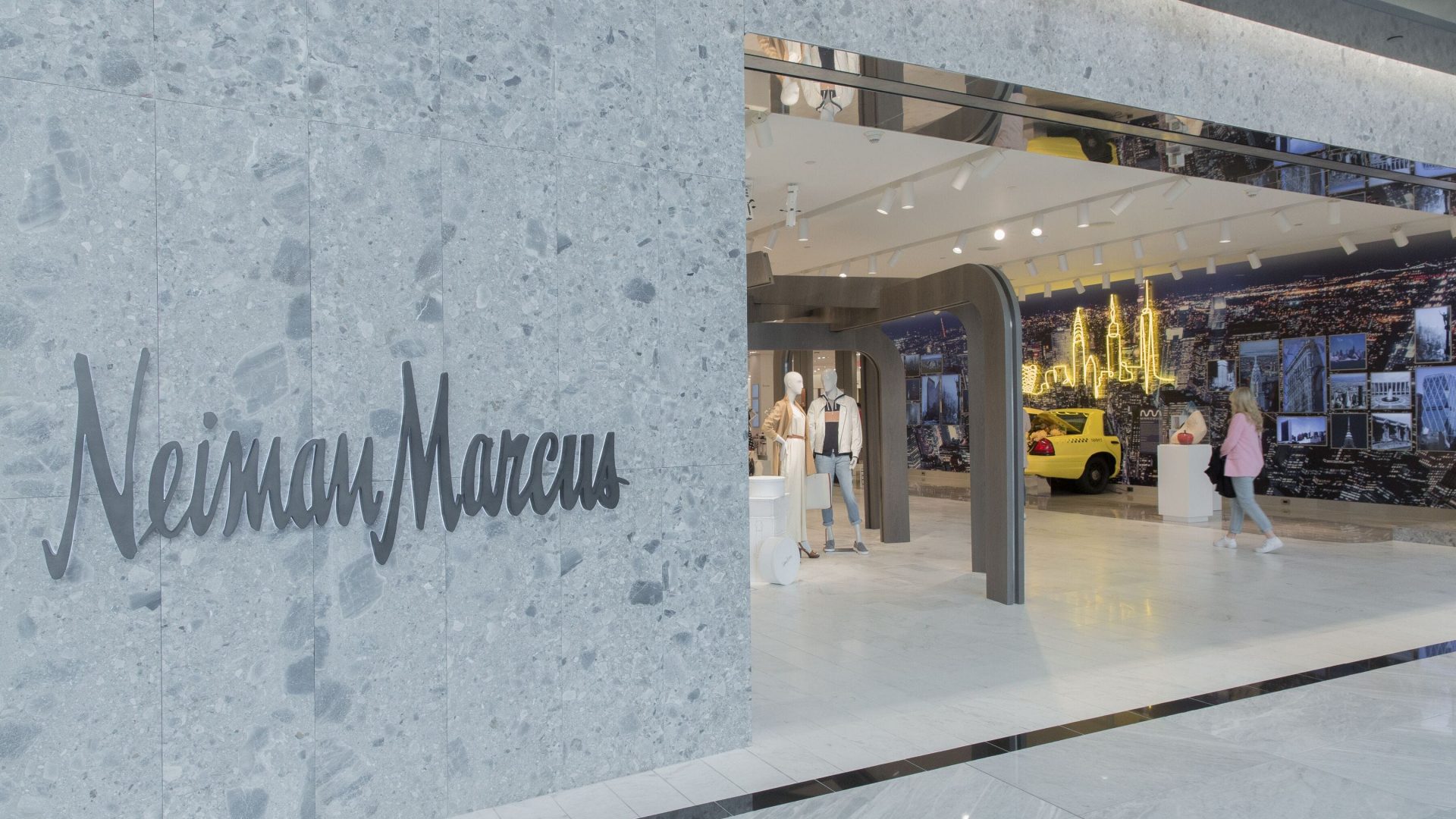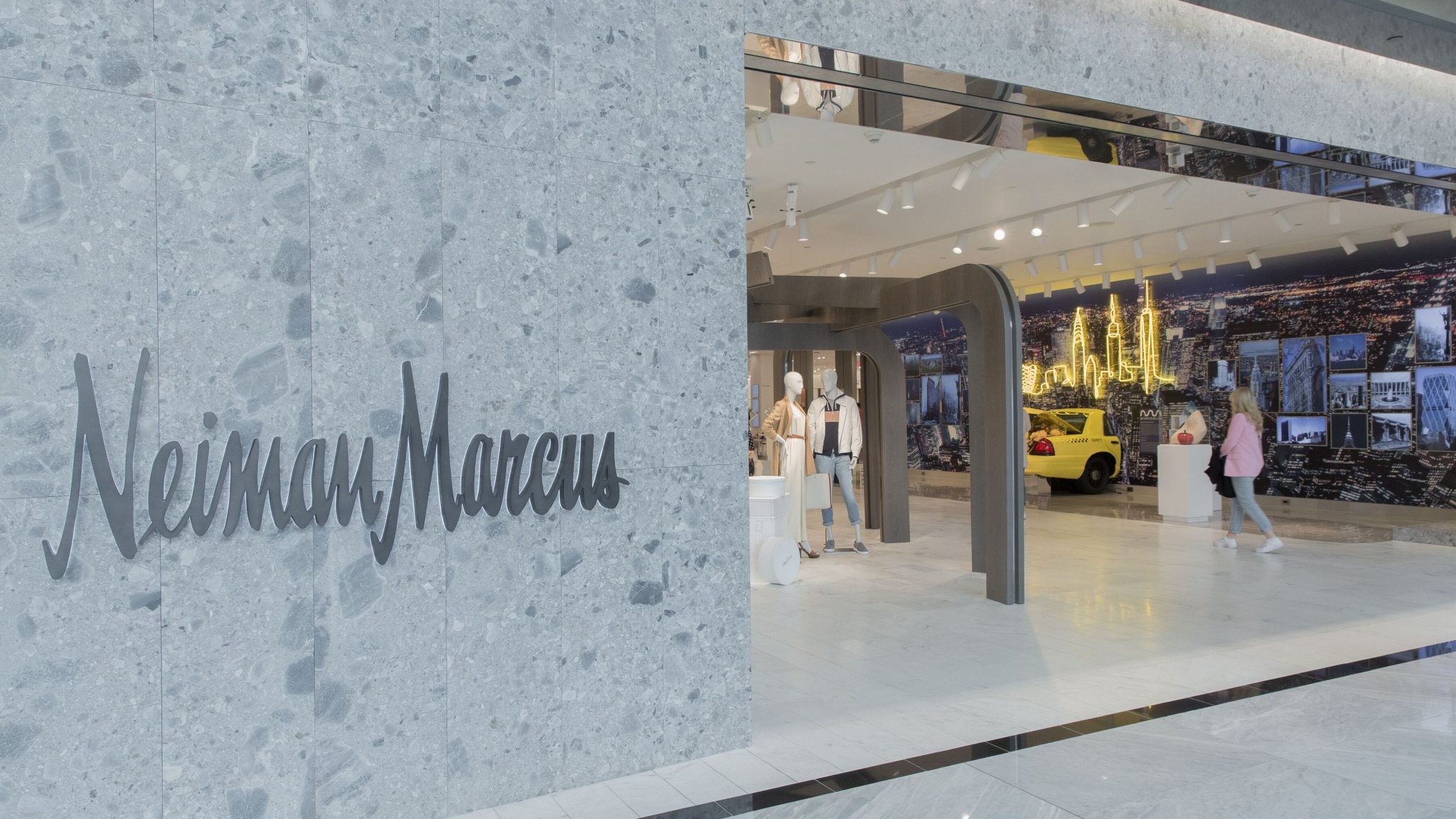 Final Thoughts/Predictions: I have mixed feelings about this week's information. I think we are just beginning to feel the underswell of the economic effects of the shutdown. There was a food bank that was giving out grocery packages on Friday at the Grossmont Center Mall near my house in La Mesa, CA. According to the news, people started lining up at 3 am for the 9 am opening. The food bank apparently handed out all 1,000 care packages within 20mins of opening. While this particular anecdote provides a bleak image I also spoke to many business owners in the medical and e-commerce space who have seen a major uptick in sales.
Real estate is cyclical in nature, the market was inflated and due for a correction. I think once the coronavirus turmoil subsides there will be an abundance of opportunities for investors and housing will become more affordable across the board.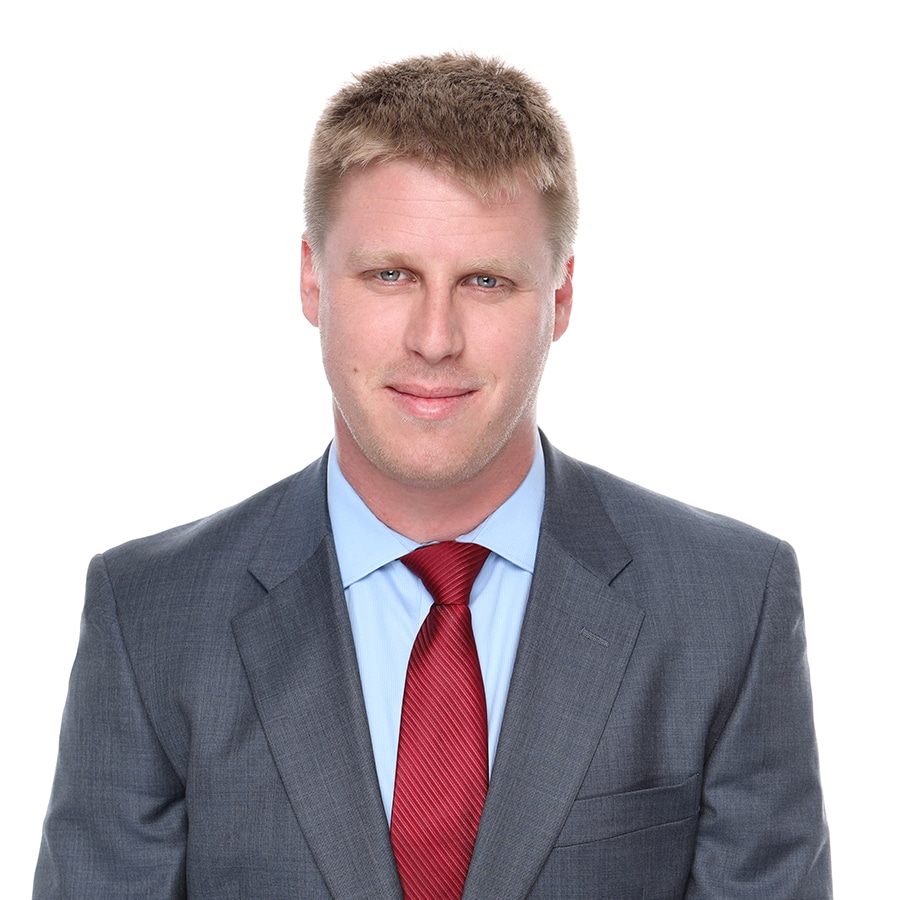 ABOUT THE AUTHOR: Erik Egelko is a licensed real estate broker with a specialized focus on leasing and sale of commercial real estate assets in central and eastern San Diego County sub-markets.
Real Estate Questions? [email protected] | 805-415-1914